he list of items we need to pick up when we are leaving the house has expanded over the last year. Face coverings have become an essential item in our daily lives.
We need to cover our mouth and nose when we are in close proximity to other people.Using a face covering can reduce the spread of coronavirus droplets, limit the spread of the virus and help to protect others.​​They should be used alongside other precautions to reduce the spread of coronavirus including social distancing, using hand sanitiser and regularly washing your hands.
We, at Beaumont PPS, want to kick single use items to the curb* and encourage our customers to do the same. It's time to invest in branded face coverings for your business;another touch point where you can pop your branding, increasing visibility, while keeping your team and others safe.
Let's take a look at a couple of options
Snoods
The fashionista of face coverings. Snoods are stretchy, comfortable and can be easily pulled up and down to cover the mouth and nose without the need to fiddle with elastic.
Snoods are made from lightweight, breathable fabric and are reusable; washing them on a high heat will sterilise them. They are a great option for those who work outdoors, or in sports and leisure, providing a bit of extra warmth around the neck.
They are perfect for your team, or to gift to your customers. Whether you're looking for subtly placed branding, pantone colour matching or all over digital print, it's an item we can source for you. Looking to up the ante with your corporate social responsibility? We can provide eco-friendly options made of recycled, sustainable fabric or even bamboo.
We designed and provided Highland Park with their branded snoods. Based on an order of250 units of a similar design, the price per unit is roughly £1.35**.
Facemasks
Snoods a little too casual for your business? We can go down the face mask route instead.
Washable; reusable; antiviral coating; full digital print; pantone matched; you name it, it's likely we can provide the bespoke facemask you are looking for.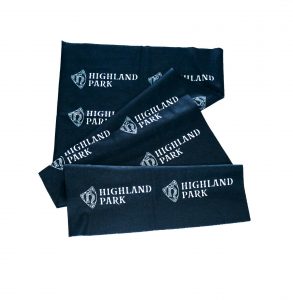 Take a look at these smart, embroidered masks we designed for the Edrington Group. The colour matches their branding and the off centre embroidered logo gives it an element of high end class. The minimum order quantity for this high standard of face mask is 100 with prices from approximately £8 per unit.
So, there we go. Face coverings not only provide safety, but can also be used as a valuable marketing tool. Save the planet, keep your team & customers safe, and get your branding in front of people. Literally.
Ready to take a step up from disposable single use masks and invest in custom branded reusable ones? Contact our team today for a quote.
*See our blog about our in-house sustainability promise, Project Terravita, to find out more about how we are playing our part in saving the planet.
**Please note that prices for minimum order quantities may be higher