SL SPIRIT MEASURES
Pull up a seat, we need to have a chat.
Let's pretend we're sitting at a bar, shall we?  We're going to buy you a drink (we're kind like that).  A fine, Single Malt Scotch Whisky served in a NEAT Glass.  The back of the bar looks nice, if a little cluttered.  The bottles are on display but we can't make out any brand names.  We're going to have to ask the bartender some questions and take up some of their time when they eventually come over to take our order.  Speaking of bartenders… where are they?  I'm thirsty. That NEAT Glass is winking at me and my drink ain't going to pour itself.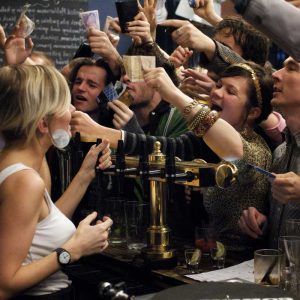 At one end of the bar, a bartender is doing a fancy dance, slinging a shiny Boston cocktail shaker all over the place.  It's impressive, yes, but it's time consuming.  We take a look towards the other end of the bar where a queue of parched punters are waiting for their orders.  The bartender is in a rush, pouring drinks using a sticky looking jigger.  In their hurry, they are making quite a few errors.  The measures aren't very accurate; some look pretty small, while others have sloshed over the sides and onto the bar runner beneath.  It's a messy business, and with all of that wasted alcohol, pretty expensive too.
If only there were something that could help them out?  Some kind of device, perhaps?  Something that will speed up the serving process during the bar's busy period…
Oh wait.
There is. Enter, our dear old friend.  The humble SL Spirit Measure.  Not sure what an SL Spirit Measure is?  Get comfortable, it's time for the science bit…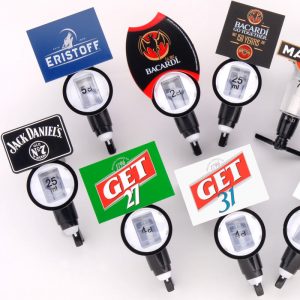 Often found mounted to a wall behind a bar, SL Spirit Measures are spirit dispensers which pour highly accurate measures.  A rubber cork is placed into the bottle, followed by the spirit measure itself.  Bottles are then held upside down on a bracket, usually attached to a wall.  The spirit measures have a 'push-back' or a 'push-up' lever mechanism, both of which are super easy to use.  When a glass is pressed against the lever, the liquid inside the measure is released, giving you the perfect measure each time you pour.  Beaumont SL Spirit Measures come in three different options; 25, 35 and 50 ml measures.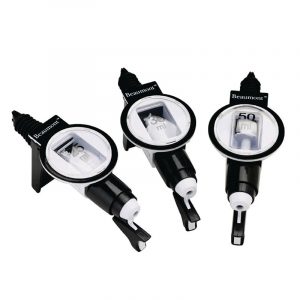 The slick, smooth dispense action of the SL Spirit Measure can help you tackle queues too.  Got a punter with a drinks list as long as your arm?  If your bracket holds more than one spirit measure, POW, POW; the single handed operation means you can pour two drinks at once!
Wall mounted bar spirit measures also save space; a less cluttered bar gives your team more space to move around which can also lead to faster service.  Quick service makes for happy customers.  Happy customers may become repeat customers.  Happy customers can also lead to positive reviews which, in turn, can lead to MORE customers.  What's not to like about that?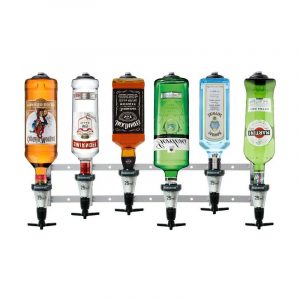 The height of wall mounted spirit measures leaves branding on the bottles at eye level which can lead to increased sales.  The spirit dispensers are dishwasher safe, making them both hygienic and easy to maintain.  Made in the UK, our premium quality Beaumont SL Spirit Measures are CE marked and meet European health, safety and environmental protection standards.  Good news for everyone.
Yes, jiggers have their place, but when your bar is busy, speed is of the essence.  SL Spirit Measures save time.  They are non-drip, which means there is zero waste, making them highly cost effective.  Yes, they might seem a little retro, but retro is cool.  Do you know what else is cool?  Happy customers who have been served swiftly.
We're a humble bunch here at Beaumont PPS.  We're not ones to brag (often), but this is a brag-worthy statement…  The Beaumont SL Spirit Measure is the best selling spirit measure IN THE WORLD, which shows  that it is truly the best in the bar scene.  Why not give it a try yourself?
If you'd like some further information, drop us an email at info@beaumontpps.com or call us on 0141 226 3411.