The Rise of the Home Bar – Our Top 5 Must Haves
Not through choice, 'staying in' is the new 'going out'.  Your home is pretty much the only place you can enjoy a beverage at the moment which has led to an increase in home bars.
Home bars come in many different shapes and sizes; from a small cabinet or a fancy little drinks trolley, to a full blown drinks shed, complete with bar stools.
Looking for some branded products that will have your customers craving their next purchase?  Here are our top five…
Optic / Shot Clip
What could make a home bar feel more like a pub than a wall of upside down bottles?  Not only does an optic make pouring a drink very easy, but they also provide that 'sitting in the pub' look and feel.
Optics come in different volumes; 25ml, 35ml and 50ml.  They are super easy to use; simply push the optic into your spirits bottle, as you would a cork into a wine bottle, push the rim of your glass against the 'tap' and, voila, one perfect measure of your favourite spirit.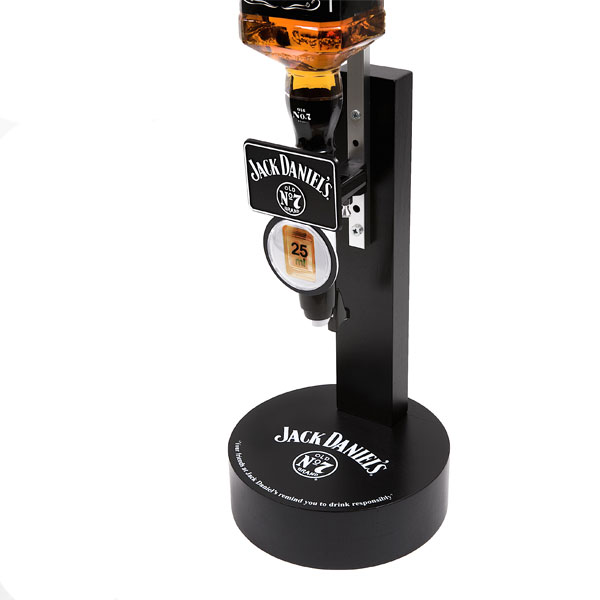 Optics come with a variety of options when it comes to branding.  A plaque can be added to the outside of the optic, bearing your brand name, keeping it front of mind.  No wall?  No problem.  We can provide branded optic stands, which not only solve the 'lack of wall' issue, but provide a little bit more brand visibility too.
We, at Beaumont PPS, are changing the way we work, providing sustainable products to do our part in saving the environment.  Traditionally, plaques and optic stands would be made of plastic, however, we have sourced sustainable materials to fall in line with our in-house sustainability promise, Project Terravita.
Alternative materials include:
Eco board; a versatile, wood-esque material made from recycled plastics.
HIPS, or High Impact Polystyrene. This material comes in a variety of colours and is super malleable, meaning it can be remoulded over and over again, making it environmentally friendly.
Saving the planet and promoting your brand at the same time?  Sign us up.
Want to really stand out from the crowd?  Look no further…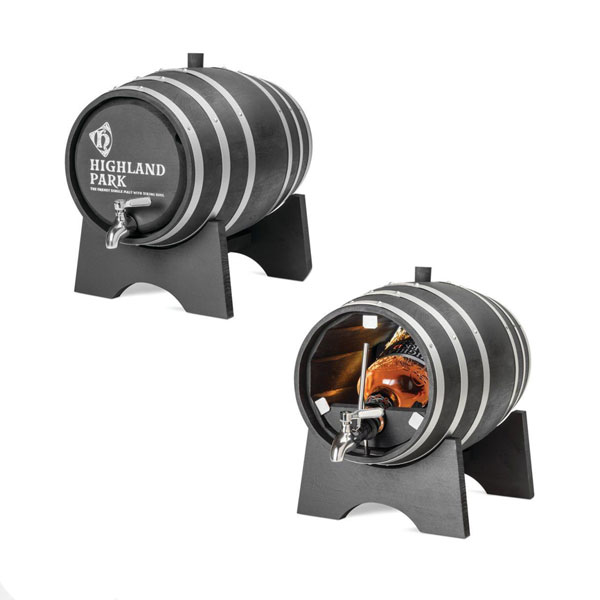 We love this barrel optic we produced for Highland Park.  Made from Alderwood, this novel, yet classy, optic will not only be a key talking point in a home bar, but it will stand the test of time.  Whisky is aged in a cask, why not serve it from a mini one?
If you'd like us to come up with a bespoke optic for your brand, contact us today and we will get to work!
Short on space?  Not a problem.  Shot Clips could be the one for you!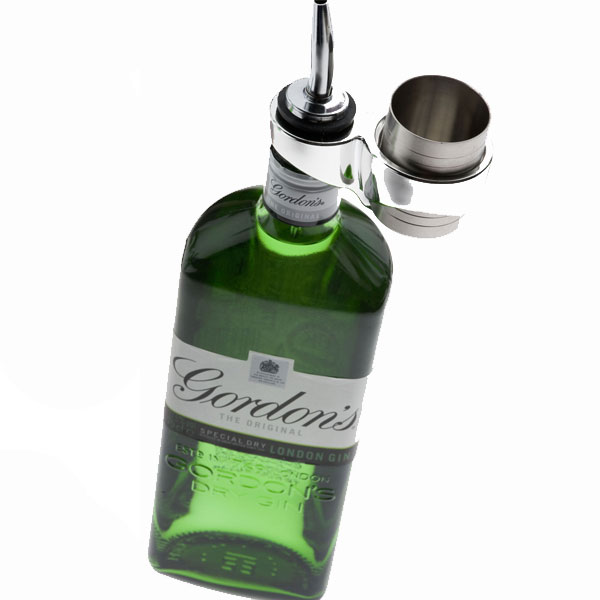 Shot clips are a sleek alternative to optics.  All you need is a speed pourer and a thimble style spirit measure.  And your favourite bottle of spirit, of course.  The shot clip is easily attached to a speed pourer and will fit spirit measures in volumes of 25ml, 35ml and 50ml.  The compact size and chrome finish will leave a home bar looking slick, neat and tidy.
Bar runners
Cleanliness is key, and what better way to keep a home bar top clean than with a branded bar runner.  PVC, jute topped, or full digital print, a bar runner can be as subtle or attention grabbing as you like.  Drinks, drips and spillages can be mopped up with a full colour branded bar towel.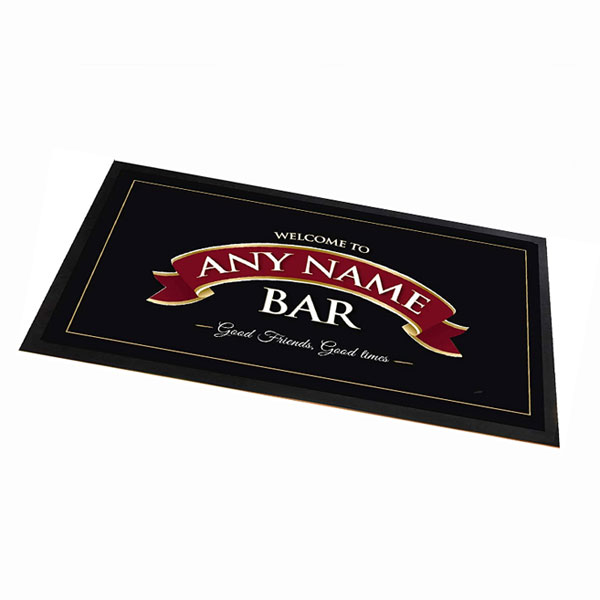 They are multi-functional; they keep your branding in front of your customers whilst mopping up any spillages, keeping a bar neat and tidy.  Speaking of neat…
The NEAT Glass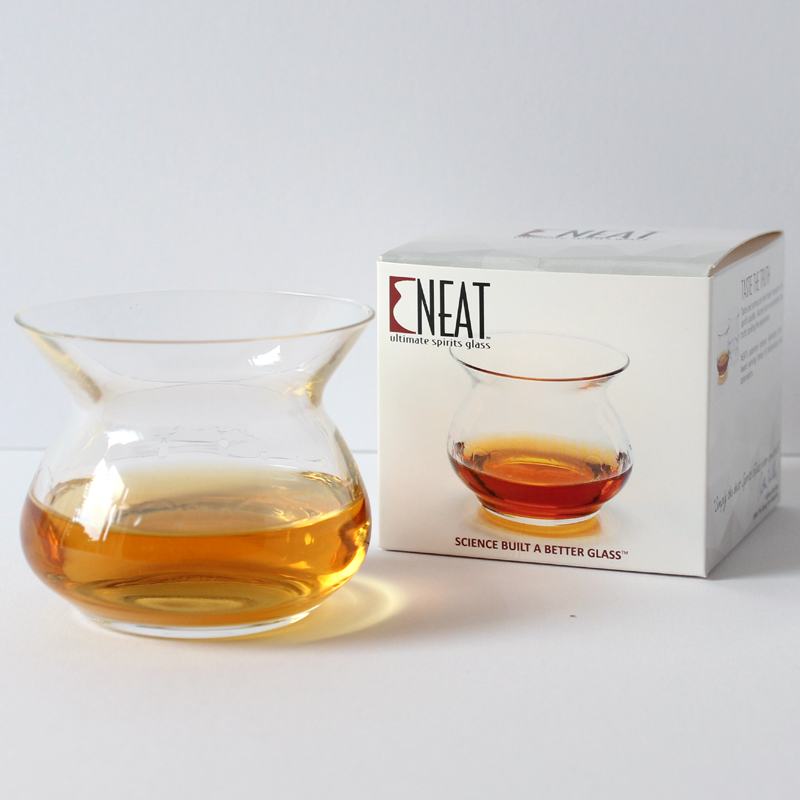 Our favourite drinking vessel here at Beaumont PPS HQ; perfect for opening the aromas and changing the drinking experience of any spirit.  Added bonus?  They can be branded too.
The curvaceous sides of the NEAT Glass 'bowl' allow room for the spirit to be swirled, opening the aromas and powering evaporation.  The secret is in the swirl.  Simply fill your tipple of choice to the widest part of the glass, then swirl the liquid around before holding it level.  The neck of the glass separates the alcohol smell from the character aromas.  The ethanol escapes over the rim of the glass, leaving behind the key aromas in the bowl for you to savour.  Take the glass to your nose and enjoy the aromatic experience without the alcohol burn.
We can add branding to the base of the side of the NEAT Glass.  They look classy, and guess what?  Unlike many other whisky glasses, they are stackable, leaving more shelf space for spirits.  Hooray!
Looking for different glassware?  Be it highball, martini, or something in between, we can help source them too.  Drop us an email or give us a call to find out more.
Tin signs
A must have for those who are missing the authentic surroundings of a good, old fashioned, dive bar.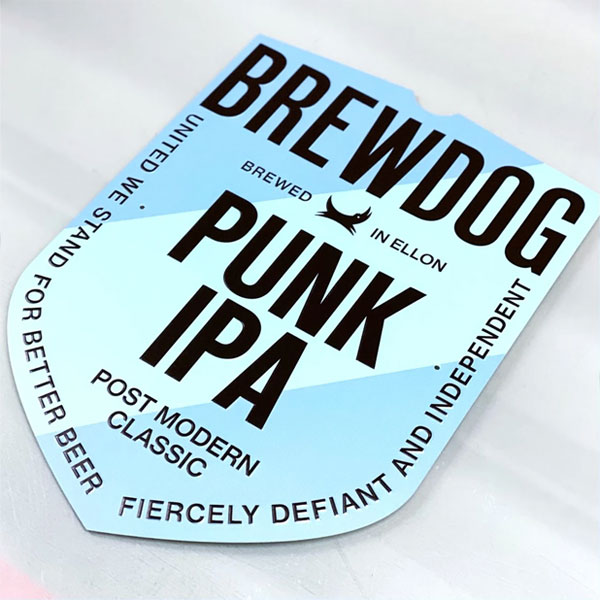 We can provide embossed or flat tin signs in full colour, or with a matt finish, with a couple of holes punched so they can be fixed to a wall.  Tin is relatively easy to mould, which allows us to provide custom shaped signs to suit your brand.  Tin signs are a cool piece of branded merch that truly stand the test of time.
Ice buckets
Ice buckets are a great addition to a home bar.  They provide a handy place to bulk store plenty of ice ready to go into your drinks, saving you from running backwards and forwards to and from the freezer.   Alternatively, they can be used to chill a nice bottle of wine.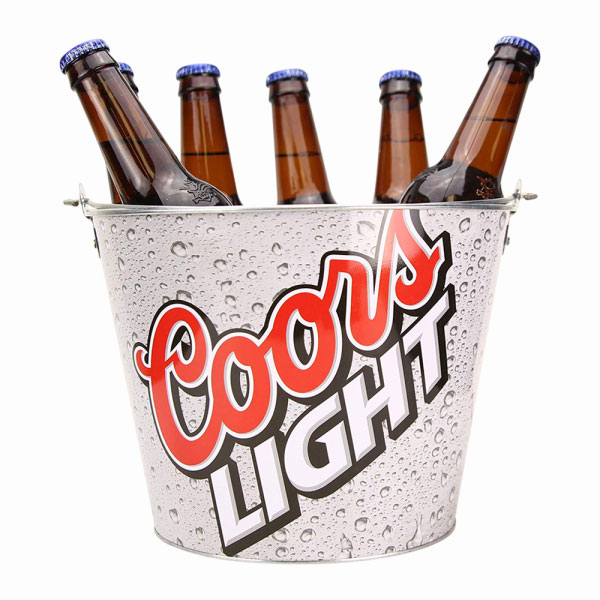 Ice buckets come in many shapes and sizes; for a classy look, we recommend metal, and can be branded in print or engraved.
We hope this list has inspired you.  If you're looking for more information on minimum order quantities or would like a quote, get in touch – we can't wait to hear from you!