Summer is well and truly here, and nothing says summer quite like enjoying a refreshing drink in a beer garden.  Here are some of our favourite items that will not only keep your customers safe, but make your beer garden look super sleek and welcoming.
Cafe Barriers and Planters
Although restrictions have been eased, social distancing rules are being kept in place, meaning that customer groups within beer gardens must be kept at least 1 metre apart.  Safety is key.  Cafe barriers are the perfect option for sectioning off areas, establishing a perimeter and giving customers an indication of their designated space.
Cafe barriers are not only practical, but can make your beer garden look attractive and professional.  Heavy duty posts and a central rail hold a printed banner which can be printed on one or both sides; not only are you keeping your customers safe and providing a little privacy, but you're advertising your business to passersby which could lead to new custom.  A win-win.  Actually, make that a triple win… they're easy to store too.
Why not go the extra mile and add an extra touch of class to your alfresco area by investing in some branded planters to work alongside your cafe barriers.  Planters are custom made to suit your venue; freestanding units, window boxes or even table top; if you'd like to discuss your options, please get in touch.
Parasols
We all know that the UK weather is an unpredictable beast.  One minute it could be blazing hot sunshine, the next, torrential rain.  Branded parasols not only offer prime real estate for your logo, but they have the added benefit of providing customers with protection from both the rays of the sun, and big blobs of rain.
There are lots of different options when it comes to branded parasols; classic metal beer garden parasols; hardwood parasols with a pulley system; cantilever parasols, perfect for larger open areas; water resistant, rot resistant and fade resistant; we can help you find the perfect solution for your outdoor space.  Get in touch and we can get the ball rolling.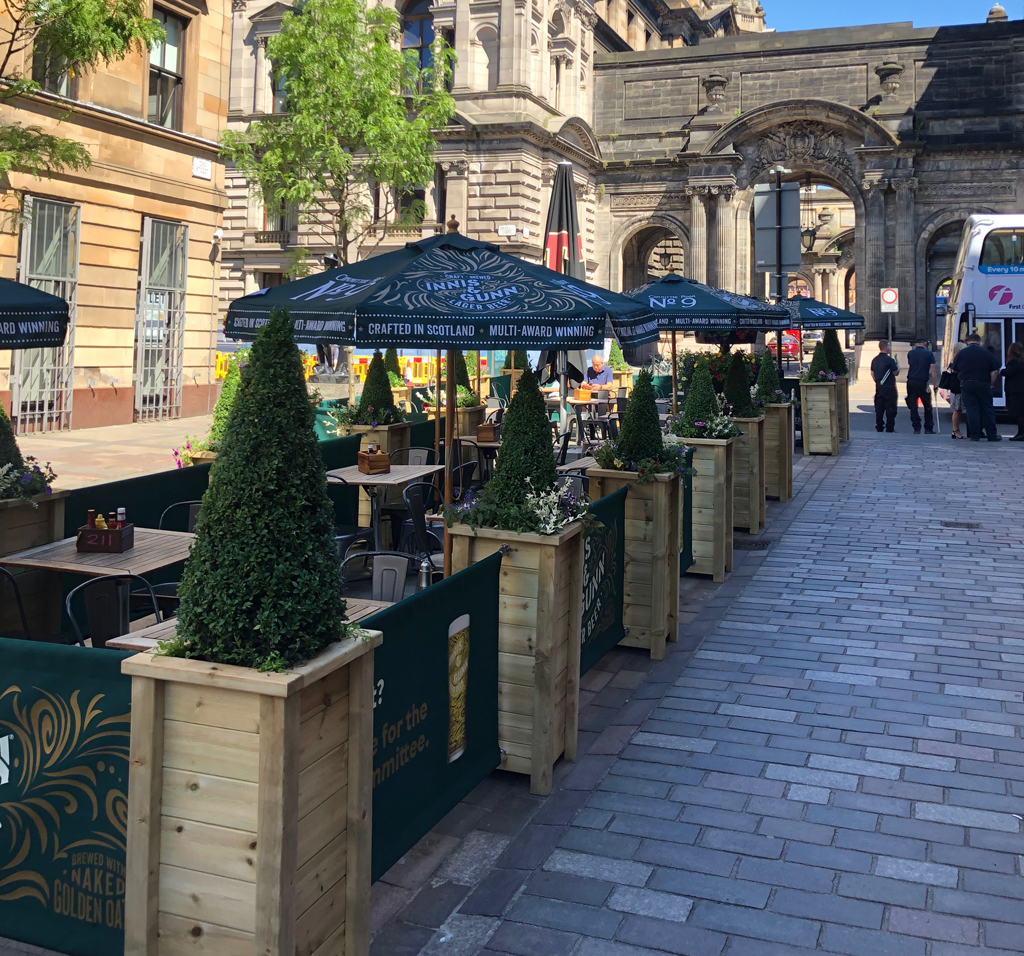 Bunting
Welcome your customers with a street party look and feel.  We are celebrating being able to socialise with more friends and support the hospitality industry, and nothing says celebration like bunting!
Double sided printing, custom shaped flags, eco-friendly options; when it comes to bunting, there are lots of options and we can help you find the perfect one to suit your venue.  When it comes to design, why not consider alternating the flags between having your logo printed on one, and a reminder of social distancing measures on the next?
Classy Comfort
Comfort is key.  Keep bums on seats for longer with some cool branded cushions.  We love these Caorunn Gin cushions we produced for a secret gin garden.  Cushions give a large customisable area and can be printed from edge to edge on both sides.  They can be digitally printed, pantone matched or embroidered and come in a variety of shapes and sizes.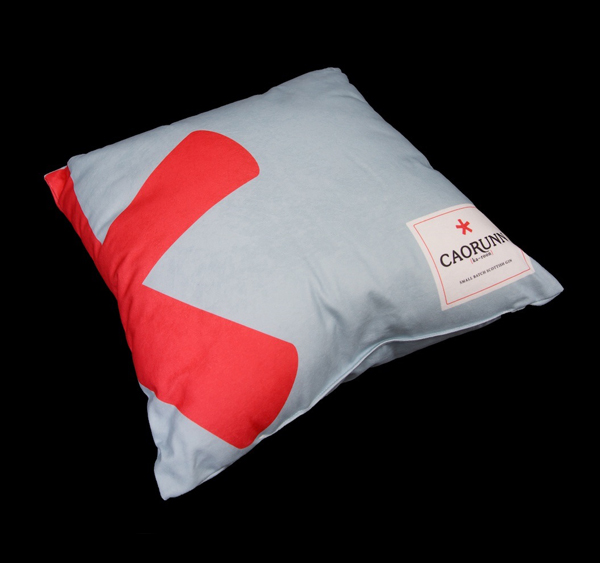 When the sun goes down in the evening, or pops behind a cloud during the day, it can get pretty chilly.  You want to keep those customers both warm and comfortable to increase dwelling time, right?  The solution?  Branded blankets.  Available in a variety of colours, sizes, styles, materials and branding options; we can source the right option to suit your brand.
Hand Sanitiser Dispensers & Gel
Keeping your hands clean is essential for keeping harmful bacteria at bay.  Having a hand sanitising station in your beer garden is the perfect addition to encourage good hand hygiene.  Hand sanitising dispensers come in a number of different shapes and sizes; wall mounted systems, freestanding units, automatic or manual.  We can provide a solution to suit you.
Need some hand sanitising gel to keep your dispenser topped up?  We can provide that too.  Our hand sanitiser is jam packed with Jojoba oil, which contains both Vitamin E & Vitamin B. These work together as an antioxidant and create a barrier to keep your skin from losing moisture.
Sanitised and moisturised hands = happy hands.
Click here for more information regarding hand sanitising solutions.
There we have it; our favourite items to make your beer garden be the place to be this summer.
Contact us today for your customised quote.