At Beaumont HQ, we are always looking for ways to reduce our impact on the environment.  In 2020 we introduced our in-house promise, Project Terravita; a series of foundational 'pillars' we have devised which we will be following over the coming years as our pathway towards a greener way of working.
On our timeline, our 2021 aim has been to deliver a quote for an eco-friendly, sustainable option or alternative wherever we can with every enquiry we receive.  We want to help you promote your business with sustainable items whilst simultaneously helping the environment.  Sounds like a win-win situation to us.
Over the coming weeks, we will be sharing our favourite sustainable branding solutions, starting with…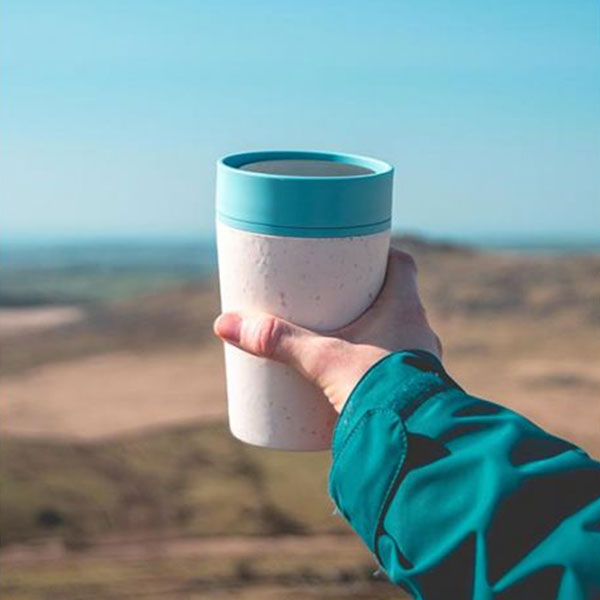 The Circular&Co – Branded Reusable Coffee Cup
What better way to, not only play your part for the planet but, increase your daily branding exposure than with a reusable coffee cup.  The Circular&Co cup has really caught our eye.  Sit tight, it's storytime…
You're running late.  Spending that extra 5 minutes idly scrolling through Facebook has really messed up your routine this morning, eh?
You grab your jacket and bag before picking up your trusty Circular&Co coffee cup and rush out the door.  Stepping onto the train, the doors slide shut behind you.  You made it in the nick of time.  Well done.
In typical rush hour fashion, you are squashed between fellow commuters with no room to put your bag down.  Well this is going to be annoying, isn't it?  You're going to have to try and turn your coffee cup around to navigate that little rectangular hole from which to take that much needed first sip of coffee while you have your hands full…
But wait.  You've got a Circular&Co coffee cup, don't you?  You don't need to search for the little rectangular slot from which to sip your hot beverage of choice.  No, no, my friend.  The Circular Cup allows for a 360-degree drinking experience.  There's no need to unscrew the lid.  All you have to do is push it open.  The push-open, push-closed mechanism makes it easy to do so with one hand.  The durable cup is insulated, keeping your drink warm for over 45 minutes.
The outer wall of the cup is made of recycled disposable, paper takeaway cups.  In the UK alone, we use 2.5 billion paper coffee cups and less than 1 in every 400 is recycled*.  Circular&Co have produced their innovative coffee cup from these single-use items which would usually end up in landfills or in our oceans.
The cups are 100% leakproof and have a lifespan of up to 10 years.  With maximum sustainability in mind, once a cup has reached its 10-year lifespan, Circular&Co will even take it back and, if they can't repair it, they will replace it.  The old one will be recycled and made into another cup, keeping the recycling cycle going, and going and going…

The Circular&Co Cup for your business
This cup is different to others on the market; the benefits to both the consumer and to the environment are superb.  An additional benefit for your business?  The 10-year lifespan of the product.  That's 10 whole years for your brand to be in someone's hand.  A high-quality item that a consumer will use time and time again, maybe even on a daily basis.  Let's say a cup of coffee takes 15 minutes to drink… that's a lot of brand exposure each week just from one person.
Branding wise, the cup is a blank canvas.  Your logo, tagline or brand slogan can be printed in single colour on one or both sides of the cup.  For higher volume orders, we can go even further and look into full colour, full wrap, custom made designs.
We think Circular&Co cups are the perfect option as a go-to for your office; hand them out to your employees and gift them to your customers.  Contact us today for your quote and we can get the ball rolling.
*Data taken from the House of Commons Environment Audit Committee 2017-19.  Disposable Packaging: Coffee Cups.